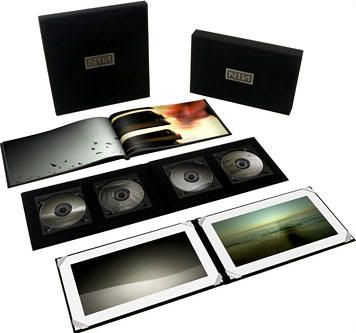 As I mentioned previously I was one of the lucky NIN fanatics to buy one of 2500 Ultra-Delux Limited Edition Ghosts packages (pictured right), they
sold out
just a day or so after going on sale. Needless to say I'm chomping at the bit to get my hands on this thing. Unfortunately it doesn't ship until early April. I guess it'll take some time for Trent to
sign them all
.
Trent and crew are also asking for submissions for a
Ghosts film festival
over at YouTube, which I thought was pretty interesting. If I actually had free time and a decent DVCam I'd be tempted to put something together. Coincidence that Radiohead has decided to do something
similar
?
I think it's inspired that the whole Ghosts album was released under a creative commons license, really opens up the doors for fans to do interesting things with it. That being said, Trent has been offering multi-track files in a variety of formats for awhile now and that has spawned a pretty cool
remix community
. Too bad the site doesn't really work all that well under Ubuntu but we have Adobe and that annoying lack of PNG transparency in flash to blame for that.